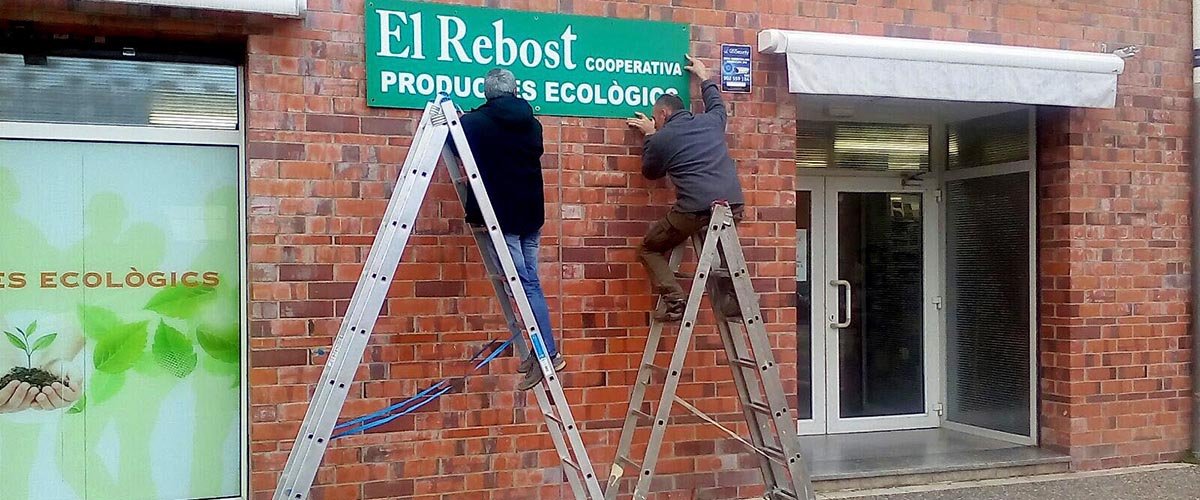 Presentation
WHAT IS IT, WHO IS IT FOR & WHY?
In keeping with the original ideals & spirit of El Rebost, 100%COOP is the work carried out by its members in a manner that is organised & voluntary.
Anyone who would like to feel & cooperate 100% can form part of the most committed & valuable group that we have. You can be 100%COOP if:
You have 3 hours available every month.
You can commit to & want to become an integral part of the cooperative.
You wish to exchange an financial quota for a work quota.
Being the ecological cooperative of reference in Catalunya, and having celebrated our 30th birthday with 500 family members, we would like that our growth & development serves to reinforce the personal & collective link with the coop & helps to improve the prices & services that we offer.
We are deliberately and enthusiastically different from the conventional & ecological supermarket; we refuse to make a business of the environment, we have no desire to make a profit & with 100%COOP we have proof positive of the potential & uniqueness of the enterprise.
THE TASKS
The 100%COOP tasks have the following characteristics:
Difficulty basic, easy to learn & require little physical effort.
Quota complete quota of 3 hours (1 shift / 4 weeks) or a split quota of 1.5 hours (2 shifts / 4 weeks); 3 hours of the same day every 4 weeks (eg Monday) or 1.5 hours on the same day over alternate weeks (eg every second Monday).
Shitf fixed in days and hours for the tasks with a fixed schedule (eg closing of the refrigerated room) or shifts arranged in days and hours based on the requests received (eg checking of expiry dates).
Purpose being the link between us & the project we share: saving the costs of remunerated tasks (eg stocking shelves) & an expansion of services (eg improving opening hours).
The tasks are progressively filled depending on the priority of savings & service, & the capacity for coordination and monitoring. The projected areas of work are:
CLEANING - REFRIGERATED ROOM - CUTTING & PACKAGING - HERBS - SHELVES - SHOP - EXPIRY DATE - TILL – ADMINISTRATION
Applications, allocation & confirmation of the tasks
APPLICATIONS
By means of the application form 100%COOP, duly completed and in the name of the person present, being the coop member as outlined on their membership card or any other member of legal age that they may live with.
In order to ensure that all the work quotas are maximised, every applicant is urged, as far as possible, to indicate the time periods they have available.
The application form can be presented in the coop premises or by.
ALLOCATION OF TASKS
The Governing Board will consider the applications based on:
Previous experience (preexisting volunteer).
Schedule flexibility (possibility for shift changes).
Opportunity to attend to all member applications.
Every member will receive the allocation of the proposed task & shift.
The waiting time between the application & allocation of tasks will depend on the possibility of covering all or most of the shifts necessary for the start of each task.
PRESENTATION & CONFIRMATION
The members allocated to the same or related tasks (eg basic cleaning & thorough cleaning) should attend a team presentation session in order to find out about:
The details of the task.
The coordinators & support staff.
Their colleagues on other shifts.
The availability of materials & tools.
The process of signing in & out.
What to do in the event of not being able to attend.
How you make up for lack of punctuality or not attendance.
And to approve:
The allocated task: final acceptance by the member.
Organisational logistics: creation of a shared contact base.
Attendance at this first presentation session is compulsory & not included in overall work quota time allocation.
The session lasts 1 hour, held at the time of the designated task & depending on it being a single or split shift. It may also be within a large group where there is difficulty agreeing on a date and time.
Operational details
CHANGING TASKS
If you want to change a task:
If you cannot continue with a task, don't like it, or want to learn a new task: fill out the application form again & the allocation of a new task to you will be prioritised.
In order to ensure the stability & efficiency of the system, we request a minimum period of 3 months dedicated to each of the task assigned & accepted. The exchange of the financial quota will be applied following these 3 months of effective, uninterrupted work.
Changing & Swapping of Shifts
If one day you can't attend:
Contact your workmates to see if oanother member can swap a shift with you.
If your partner wants to swap with you:
Outside of your workmates, a member of your domestic unit (of legal age with whom you live) can swap with you if they have accompanied you in at least one work session (with registered assistance).
For holidays / vacation:
The members themselves manage their holidays personal affairs by requesting changes &/or swaps to their shifts.
NOTIFICATION SYSTEM
If you can't remember when its your turn to attend
On the website & in the coop premises, a calendar will outline the rotation of each task, according to the week A-B-C-D and the number of each members card.
Also, each work group will share a database of contacts & a messaging system (eg whatsapp) that will allow members to easily agree on & request changes to their shifts.
Bonuses & Penalties
bonuses
The exchange of a financial quota for a 100%COOP work quota will be performed as follows:
One month work quota = one month financial quota.
Following a minimum of 3 continuous months of work.
Is applied on the receipt of the

financial quota of the following year

.
penalties
For lack of punctuality
Up to 15 minutes late............... recovered at the end of the same session.
More than 15 minutes late...... recovered with 1 extra session.
For not showing-up (without a change of shift or a swap)
With prior notice (minimum 1 day before):
First time /12 months ...................... 1 extra session.
Reoccurrence /12 months .............. 2 extra sessions /reoccurrence.
Without prior notice:
First time /12 months ......................... 2 extra sessions.
Reoccurrence /12 months ................. Termination 100%COOP (minimum 12 months).
Questions / Queries
If you exceed the expected commitment of work quota (3 hours / 4 weeks, 36 hours / 48 weeks), you will not obtain a better bonus or any other financial remuneration. But yes, you will show that the motivation to be a 100%COOP member goes beyond a financial one.

Are you abroad for a significant part of the year or have any other reason for not being able to contribute to the work quota system in the regular way? Let us know. We value the possibility of being of able to assign you more than 1 shift per week (more shifts over less weeks).

Outside of the planned 100%COOP tasks, you can also obtain a bonus of the annual financial quota if, during the year, you also complete a task or number of priority saving or services tasks for the coop. Meetings & the normal work of the Governing Board are excluded from the bonus.

The contribution of time is rewarded, regardless of whether its spent on a specialised task (eg web programming or butter packaging) or not. The 100%COOP tasks are focused on improving time & savings, rather than accumulating small time donations.

The cooperative of reference is, above all others, The Park Slope Food Coop of Brooklyn (New York, since 1973). It has 17,000 members, all of who work 2.45 hours every 4 weeks. (only 25% of the work is salaried). The have a single store, more than 15,000 products, are open from 8-22hr & prices are 20-40% lower than other supermarkets.

Being part of it creates pride & identity: it has been called the most beautiful social experience of the USA for its capacity to transform…both personally & collectively (www.foodcoop.com).

More questions to: elrebostcomunitat@gmail.com.